The Brown/ Trinity M.F.A. Programs, which have been in operation since 2002, exist in a continuum of training that began at Trinity Rep over 40 years ago.  The ideas and values that are fundamental to the Programs have guided the work of a distinguished line of teachers and students over several generations.  Two of the founding principles of Brown/ Trinity have remained constant through decades of institutional growth:  that theater students should be taught by working professionals, and that all students should be encouraged to explore the full range of their talents and interests. 
The Trinity Rep Conservatory
The Trinity Rep Conservatory, founded in 1978 by Directors Larry Arrick and Barbara Damashek at the invitation of Trinity Rep Artistic Director Adrian Hall, started as a two-year certificate program dedicated to the training of actors, directors and playwrights within the context of a working regional theater.  Approximately 25 students per class were taught by a faculty that consisted of the Directors and visiting artists.   In 1981 David F. Eliet became Director, and under his leadership and with the collaboration of Dr. William P. Hutchinson of Rhode Island College, an M.A. degree became available to eligible students.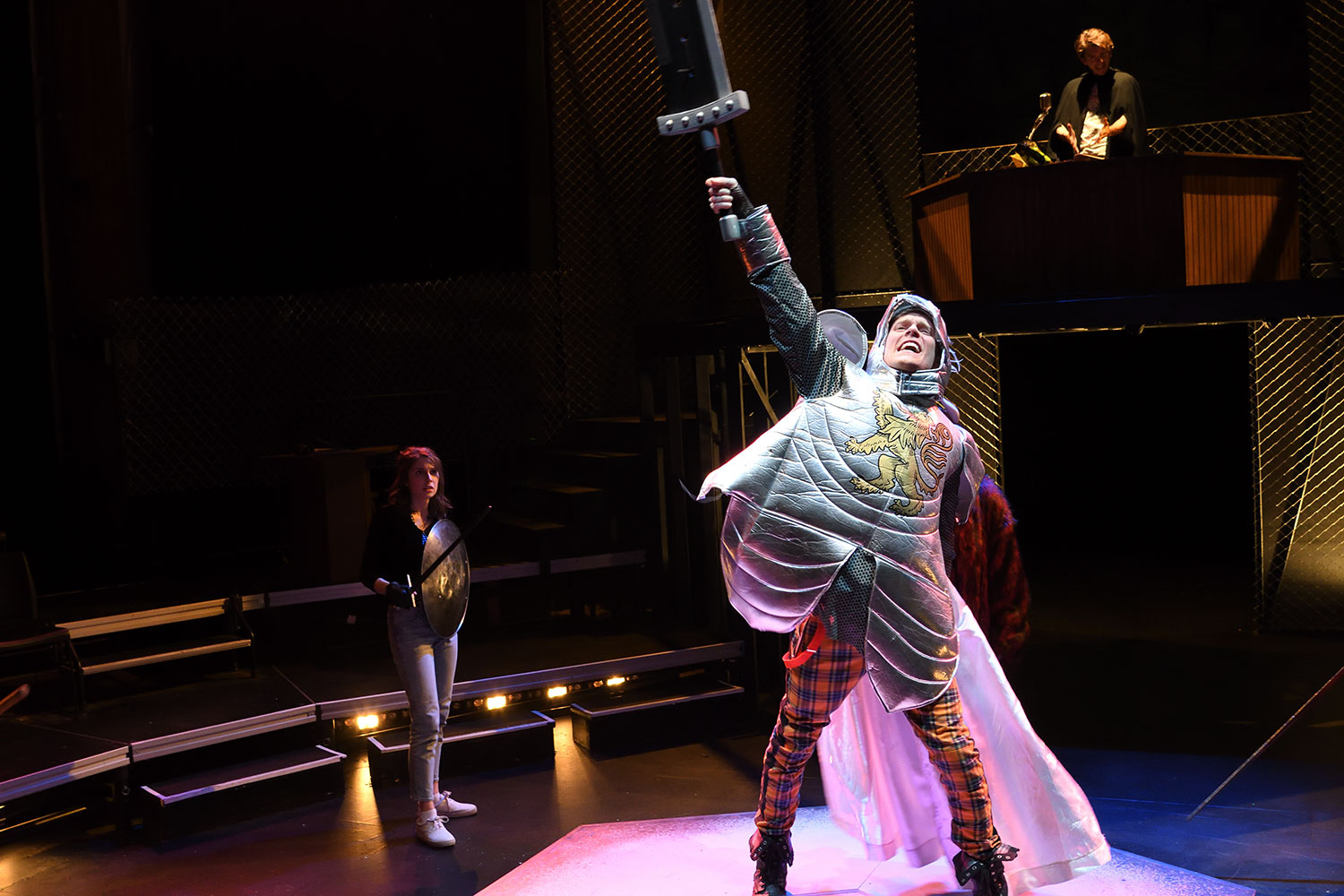 In 1989 Anne Bogart became Artistic Director of Trinity Rep, and was followed a year later by Richard Jenkins, who appointed Stephen Berenson and Brian McEleney Co-Directors of the Conservatory.  In 1994 Oskar Eustis became Trinity's fourth Artistic Director. Following several years of negotiations, the program formed an alliance with Rhode Island College in 1995 to become a three-year M.F.A. Program, again with the support of Dr. Hutchinson at R.I.C.  The two full-time instructors and 10 – 12 part-time faculty taught approximately 14 students in each class.  
In 2002, through the continued leadership of Trinity's Artistic Director Oskar Eustis, the Conservatory merged with Brown University to form the Brown/ Trinity Consortium, which was later renamed the Brown/ Trinity Rep M.F.A. Programs in Acting & Directing.  Conservatory Co-Directors Stephen Berenson and Brian McEleney were named Director of the M.F.A. Programs and Head of M.F.A. Acting, respectively.  Additional full-time faculty positions as Heads of Directing, Voice, and Movement were appointed, and instruction continued to be supplemented by part-time teachers.
Brown/ Trinity Rep M.F.A. Programs
Since the inception of the Brown/ Trinity Rep M.F.A. Programs in 2002, and beginning with the first graduating class in 2005, our graduates have made a significant contribution to the American theater and entertainment industries.  In 2006 Curt Columbus became Artistic Director of Trinity Rep, and during his leadership the Brown/ Trinity Rep M.F.A. Programs have been consistently ranked among the top graduate theater programs in the country.   In a major demonstration of support from the University, Brown/Trinity officially became a tuition-free program in 2018. 
Leadership   
Now under the leadership of Trinity Rep Artistic Director Curt Columbus, M.F.A. Program Director Angela Brazil, Head of Acting Sophia Skiles, Head of Directing Brian Mertes, Head of Physical Theater and Director of Graduate Studies Shura Baryshnikov, Interim Head of Voice and Speech Josh F.S. Moser, Interim Chair of the Department of Theatre and Performance Studies Janet Blume, and Co-Deputy Dean and Associate Dean of Academic Affairs Thomas Lewis, Brown/Trinity continues a distinguished legacy of training, mindful of its history and dedicated to continual reinvention for the future.